Chorizo-Spiced Vegan Tofu Tacos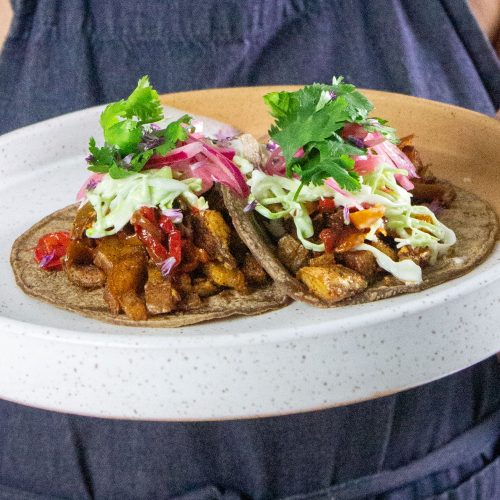 Chorizo-Spiced Tofu Tacos with Lime Cabbage Slaw
We intvited local LA Chef Amber Kaye to get creative in the MacroPlate kitchen, making her favorite vegan Chorizo-Spiced Tacos with our delicious and convenient A-La-Carte Menu ingredients!
Equipment
Oven or Broiler

Mortar and Pestle, or Spice Grinder
Ingredients
Lime Pickled Onions
1-2

limes

1/2

red onion

thinly sliced
Salsa Roja
1

piece

grilled tofu

from MacroPlate's A-La-Carte Menu

6

ounces

roasted fingerling potatoes

from MacroPlate's A-La-Carte Menu

1

tbsp

dried Mexican oregano

1

tbsp

dried thyme

1

tbsp

dried peppercorns

1

tbsp

chili powder

1

tbsp

paprika

1

tbsp

smoked paprika

1

tbsp

cumin

1

tbsp

garlic powder

1

tbsp

onion powder

1

tbsp

corriander

1

tbsp

cinnamon

Pinch of salt

1

tbsp

Cornstarch

1

tbsp

olive oil

1/2

cup

fajita veggies

from MacroPlate's A-La-Carte Menu

2

corn tortillas

Fresh cilantro

for garnish
Lime Cabbage Slaw
1/4

green cabbage

1

tbsp

veganaise

peeled

1/2

lime

juice

Salt
Instructions
Pickled Onions
This recipe uses lime-pickled onions which are best if left to pickle overnight.

Add sliced onions to a glass container and squeeze enough lime juice to coat and cover. Put in the fridge for as long as possible. Overnight is best.
Chorizo-Spiced Tacos
Preheat the oven to 400 degrees Farenheit.

Take 1-2 slices (depending on how stuffed you want your tacos) of MacroPlate's grilled tofu and simply tear them into bite sized "crumbles".

Chop your MacroPlate fingerling potatoes into 1/2" cubes.

Using a mortar and pestle, or if you don't have one, a simple spice-grinder, grind your dried oregano, thyme, and peppercorns until they form a semi-uniform powder.

Add this spice powder to a small mixing bowl along with the rest of the spices for your Chorizo Spice (chili powder, paprika, smoked paprika, cumin, garlic powder, onion powder, coriander, and cinnamon). Combine well and add a pinch of salt.

Once combined separate out 2 tablespoons of this spice mix and save the leftovers for your next meal. It's so good, you're going to want to.

In a small mixing bowl combine this spice mix with 1 tablespoon cornstarch. Cornstarch is a binding agent that will help your tofu and potatoes get extra crispy and hold the flavor. Make sure they evenly combine.

Sprinkle over potatoes and tofu.

Drizzle with 1 tablespoon of olive oil and stir until all of the tofu and potaotes look well coated.

Spread them evenly on a baking sheet (use wax paper for easy clean up!) and place in the oven to roast for 5 minutes. They're already cooked, so we just want to warm them and bake in that flavor.

While you're waiting move on to the Lime Cabbage Slaw below.

When your slaw is done, reheat your fajita veggies in a medium pan for just a few minutes until warm.

Your potato/tofu mixture should now be done! It's time to begin building your tacos.

Start with warmed corn tortillas, then add the potatoes and tofu, followed by your fajita veggies. Top with slaw and pickled onions and finish with a garnish of fresh cilantro!
Lime Cabbage Slaw
While your potatoes and tofu are in the oven. Cut off aproximately 1/4 of your fresh green cabbage and then thinly slice into ribbons.

Combine veganaise, the juice of 1/2 of a lime, and a pinch of salt in a small glass container and stir until combined.

Drizzle vegan lime crema over cabbage and toss lightly until coated. That's it! Now back to tacos.
Video