Carne Asada Tacos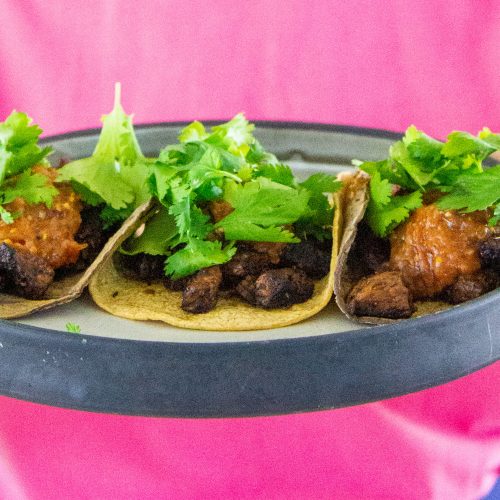 Carne Asada Tacos with Homemade Salsa Roja
We intvited local LA Chef Alex Lacasse to get creative in the MacroPlate kitchen, making his favorite Carne Asada Tacos with Homemade Salsa Roja with our delicious and convenient A-La-Carte Menu ingredients!
Equipment
Oven or Broiler

Blender or Food Processor

Cast Iron Pan
Ingredients
8

ounces

grilled sirloin steak

from MacroPlate's A-La-Carte Menu

1

tsp

smoked paprika

1

tsp

cayenne

1

tsp

dried Mexican oregano

1

tsp

whole cumin seeds

1/2

lime

juice

1/2

orange

juice

1

tbsp

grapeseed oil
Salsa Roja
1

pint

cherry tomatoes

1

serano chile

sliced in half

1

clove of garlic

peeled

1/4

red onion

peeled and cut in quarter chunks
Instructions
Preheat your oven using either the broil setting, or set it to 500 degrees Farenheit and leave the oven door ajar.

Remove your MacroPlate A-La-Carte ingredients from the fridge and allow to come up to almost room temperature while you measure out your spices.

Begin heating a cast iron pan over medium heat. Do not oil your cast iron. There will be enough oil on your steak. Let it heat up while you follow the next steps.

Take desired amount of steak, between 6-8 ounces, and cut into approximately 1/2" cubes.

Add steak to a small mixing bowl and sprinkle spice mixture of smoked paprika, cayenne, dried Mexican oregano and whole cumin seeds over your cubed steak.

Slice one lime and one orange and use juice half of each into the bowl with the steak and spices.

Add a tablespoon of neutral flavored oil. We like grape-seed oil. Toss all steak with spices, juice, and oil together in the small mixing bowl.

Add steak, spice, juice, and oil mixture to the hot cast iron. You should hear an immediate sizzle as the steak begins to sear.

Don't toss the steak. Allow the cast iron to work it's magic as the steak chars and becomes golden on one side, developing that deep flavor.

Remove the steak from the castiron and set aside but do not clean or scrub the cast iron. Leave all the remaining char and spices and seeds to continue the flavor into the Salsa Roja.
Salsa Roja
Using the already seasoned cast iron. add your tomatoes, serano chiles, garlic, and red onion directly to the cast iron. They don't need to be chopped because they will eventually be blended. Just make sure they're peeled, rinsed clean, and fit evenly across the pan.

Broil for 5 minutes. Cast iron handles are hot! Protect your hands when moving it from the stove to the oven.

During those 5 minutes, use another medium pan to lightly heat the tortillas.

When the 5 minutes are up, remove the Salsa roja ingredients from the broiler and add to a blender or food processor.

Pulse blend on low, or give a repeated rough chop. You want the ingredients to combine and become salsa, but still remain a little chunky.

Build your tacos with a tortilla, portion of steak, and a generous helping of that delicous salsa.

Finish with cilantro and enjoy!
Video