Shrimp Fajita Tacos with Cilantro Lime Rice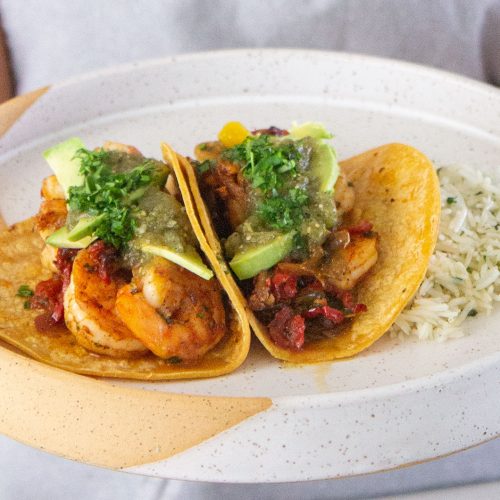 Shrimp Fajita Tacos With Cilantro Lime Rice
We intvited local LA Chef Pyet DeSpain to get creative in the MacroPlate kitchen, making her favorite Shrimp Fajita Tacos and Cilantro Lime Rice with our delicious and convenient A-La-Carte Menu ingredients!
Ingredients
3/4

cup

pre-cooked white basmati rice

from MacroPlate's A-la-Carte Menu

1/2

cup

pre-cooked fajita bell peppers and onions

from MacroPlate's A-la-Carte Menu

4

ounces

pre-cooked wild-caught large shrimp

from MacroPlate's A-la-Carte Menu

2

garlic cloves

4

tbsp

fresh cilantro

minced

1-2

tsp

olive oil

1

lime

2

tsp

chili powder

1/2

tsp

ground cumin

1/4

tsp

onion powder

1/2

tsp

smoked paprika

Salt and pepper

Avocado

slices

Corn tortillas

Salsa of your choice
Instructions
PREP YOUR INGREDIENTS
Take your pre-cooked MacroPlate A-La-Carte Menu items out of the fridge and allow them to rest aandcome up to just under room temperature as you prepare your allium and herbs.

Mince garlic and set aside.

Mince fresh cilantro until you have a total of 4 tablespoons. Divide it in half, saving two tablespoons for your fajita veggies, and two tablespoons for the Cilantro Lime Rice.
CILANTRO LIME RICE
Start by adding oil, as desired, to a medium sautee pan on low to medium heat.

Pre-measure 3/4 cup of your MacroPlate basmati rice and add it to the pan, using a spoon to make sure the rice is separated and spaced for even heating. As the rice is pre-cooked, it should only take 1-2 minutes to be heated.

While rice is heating, take a lime and roll it between your hand and a flat surface (like a cutting board). This will help release the juices, making it easier to squeeze later!

Cut the lime in half and use half the lime juice, adding it to your warming rice.

Add your 2 tablespoons of cilantro to the rice and stir the ingredients together until rice is completely warm.

Take rice off of the heat and set rice and pan aside cool.
SHRIMP FAJITA TACOS
Coat a second medium sized sautee pan with another 1-2 teaspoons (a light drizzle) of olive oil, and add your minced garlic.

Keep the heat low to medium. We want the garlic to become golden brown but not burn.

When your garlic has a little golden color and is starting to become fragrant, add 1/2 cup fajita veggies.

Add as much shrimp as you desire. MacroPlate's A-la-Carte proteins include 16 ounces. Most people enjoy 4-6 ounces per meal. Approximately 6-8 shrimp.

Add chili powder, cumin, onion powder, smoked paprika and fresh cilantro to the pan, stirring and incorporating the flavors into the shrimp and veggies.

As the ingredients are already cooked, you only need to reheat and sautee for 1-2 minutes.

Take your warmed corn tortillas and fill them beginning with the shrimp and fajita veggies.

Then add your avocado slices. 1/4 of an avocado should be enough for both tacos.

Finish with a spoonful of your favorite salsa. Chef Pyet made her own salsa verde from scratch, but any salsa will do.
Video