6 Refreshing Mocktails & Low-Alcohol Cocktails
Summer is here, and it's time to get out and enjoy! Since today is world cocktail day, we thought we'd take a second to get creative with fresh twists on old standards, designed to be light and refreshing, with or without booze! Whether you're trying out a sober summer, want to lighten up your day-drinking, or are just sick of White Claws… these drinks are as much fun to make as they are to drink.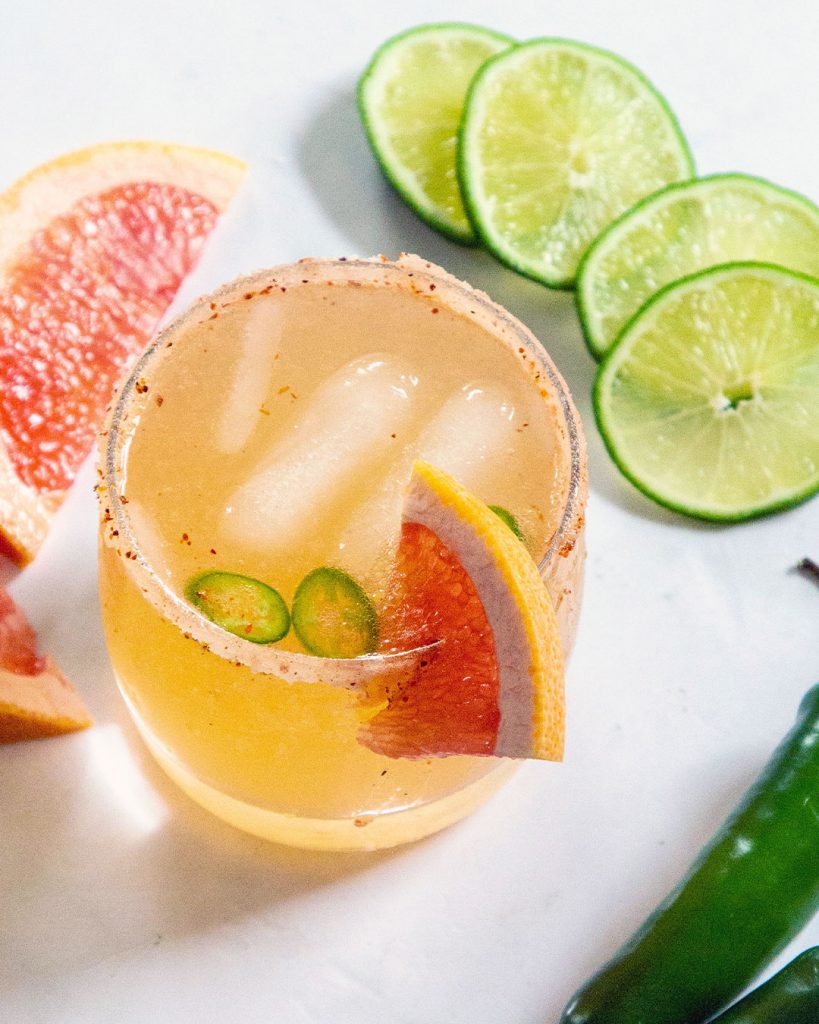 Hot Pink Margarita
This grapefruit margarita is taking your classic margarita recipe and putting a spin on it with grapefruit juice and serrano peppers! It's refreshing and spicy all at the same time! Delicious
Ingredients:
2 fl. oz ruby red grapefruit juice
2 fl. oz fresh squeezed lime juice
2 fl. oz of grapefruit or lime sparkling water
or Tequila* if desired
1/3 serrano pepper, thinly sliced
grapefruit wedge for garnish
Optional pink Himalayan sea salt and tajin for a spicy/salty rim!
Directions:
Place tequila or sparkling water in a jar or cup. Add in a couple of slices of serrano pepper with the seeds. Let sit for a few minutes so that the tequila/water can get infused with the spice.
Add 1 to 2 cups of ice to a cocktail shaker and then pour in the infused tequila. Add the rest of the ingredients.
Give the shaker a good shake so that everything gets mixed together.
Serve over ice with fresh grapefruit slices, serrano pepper slices, and a pink salty/tajin rim.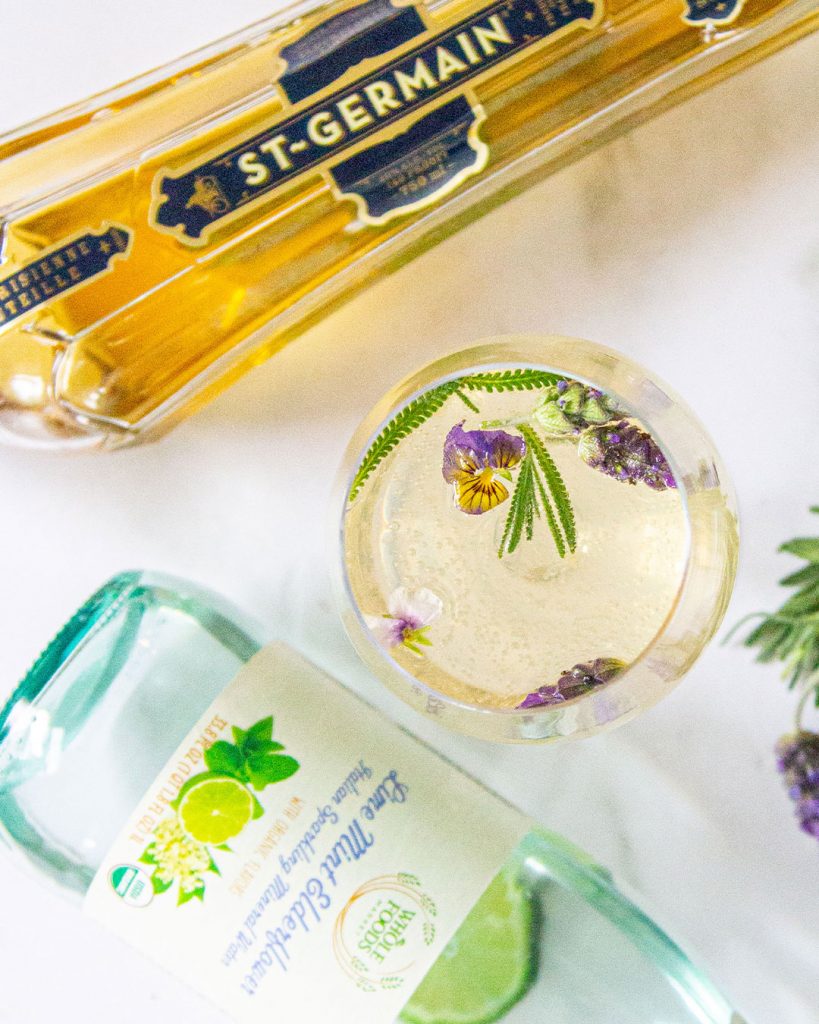 St-Germain Spritz
The classic Italian spritz, famous at bars across the boot, is a beautiful blend of Aperol liqueur and bubbly proseco. The original Aperol has a bright and bitter orange taste and a deep orange color. Our French twist on the Italian classic has a gentler flavor of elderflower with the elegant French liqueur, St-Germain.
Ingredients:
2 fl. oz St-Germain* (St-Germain has a low-alcohol content)
2 fl. oz Elderflower Sparkling Water
2 fl. oz Prosecco*, or double the Sparkling water
Add fresh lavender buds for garnish
Directions:
Add St-Germain to chilled glass with ice.
Add prosecco and elderflower sparkling water.
For a lighter, low-alcohol cocktail, double the sparkling water and skip the prosecco.
Garnish with fresh lavender.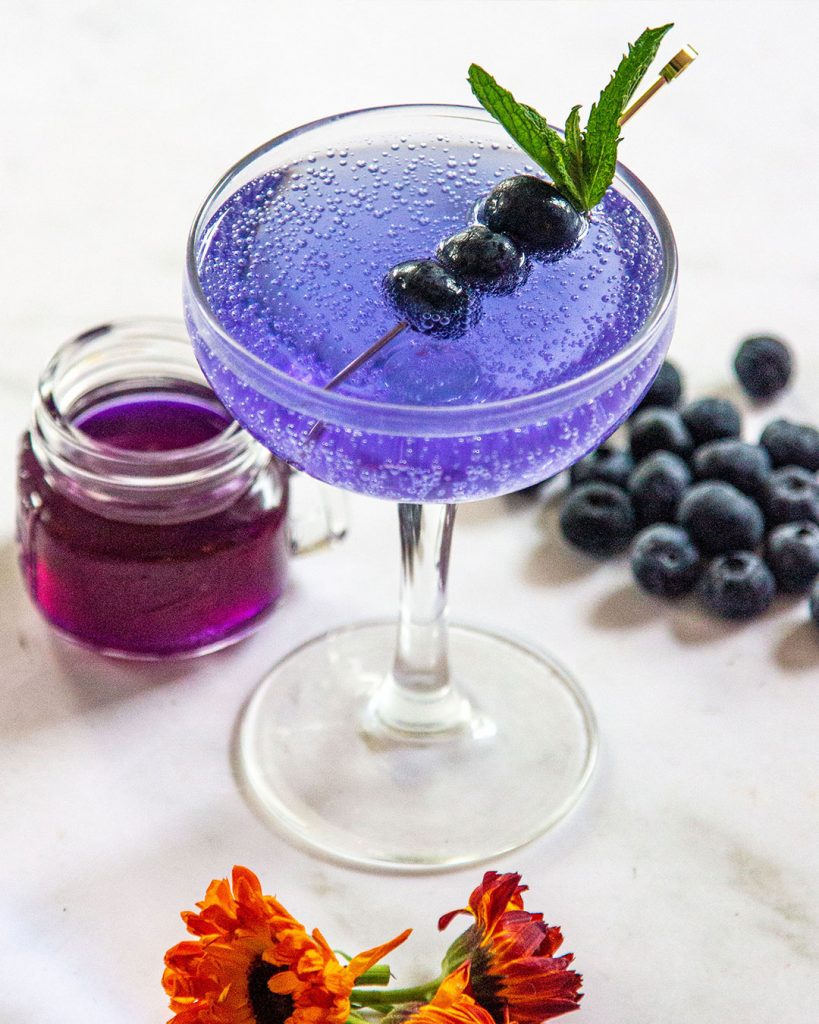 Blue Martini
Sometimes you just want to drink something brilliant blue. In those times, skip the slurpee and head for a sapphire sweet that's actually good for you. Made from blue butterfly's blue pea powder, (yes, that's a thing and it's similar to matcha), it's the perfect eye-catching festive drink for the Fourth of July.
Ingredients:
0.5 fl. oz Blue Butterfly Pea Syrup (A blue relative of Matcha)
2 fl. oz Blue Raspberry Sparkling Water
2 fl. oz Vodka* if desired
Blueberries as garnish
Directions:
Add all ingredients, except fresh blueberries to a cocktail shaker with ice.
Shake moderately for a few seconds until chilled.
Pour into glass.
Garnish with fresh blueberries.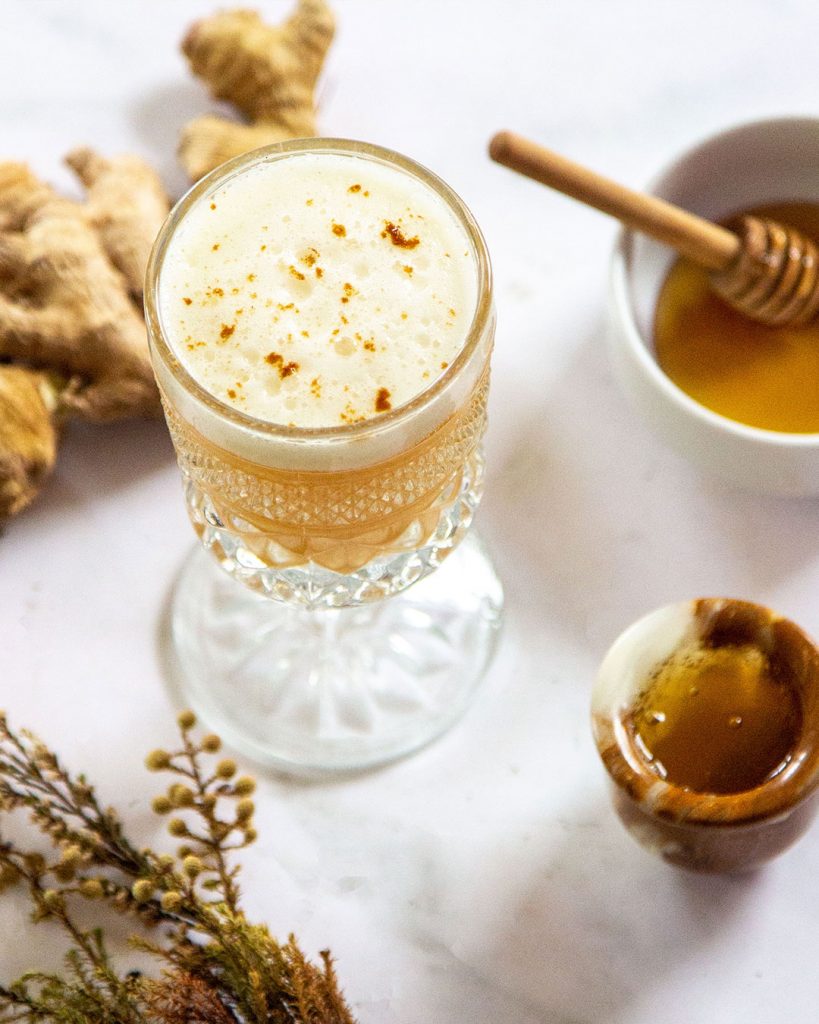 Ginger Tea Fizz
Not a fan of spirits, but missing beer and those bitter bubbles? Kombucha is a great replacement for those who aren't a fan of sweet cocktails, but love the effervescence of a good brew. Plus with the honey, ginger, and green tea, it's also incredibly good for you.
Ingredients:
30 grams of fresh shaved ginger, muddled
1 tsp raw honey
2 fl. oz Sparkling Green Tea
1 fl. oz Ginger Kombucha* (all Kombuchas are fermented and have trace amounts of alcohol)
Egg-white, frothed on top
A touch of cinnamon for garnish
Directions:
Crush shaved ginger and raw honey into the bottom of your chilled glass.
Add ice.
Pour sparkling green tea and kombucha into glass and swizzle together with a long spoon or stirrer.
Separate egg whites from yolks and froth egg whites with a frother, or simply shake in a closed container.
Pour frothed egg whites on top of the cocktail and sprinkle cinnamon for garnish.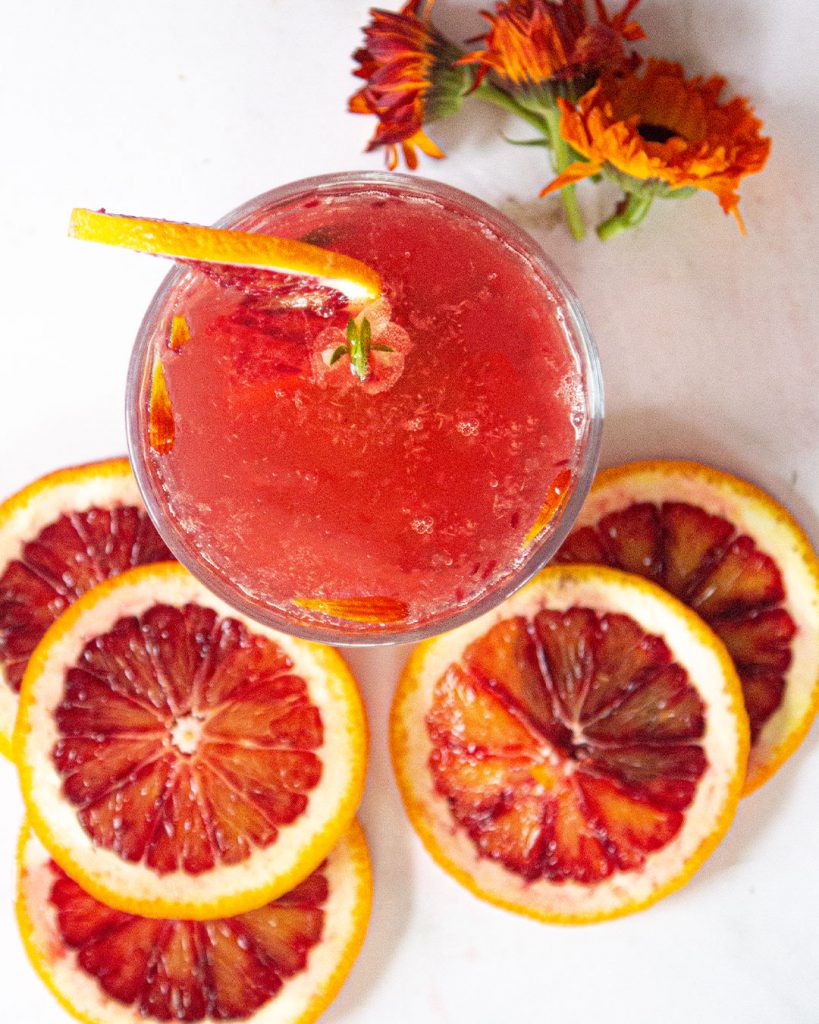 L'arranciata Rossa
Blood oranges are show stoppers at a cocktail party. Not only are they deliciously sweet, juicy and tart, they are fragrant and quite dramatic, perfect for a summer mocktail. Add a little Campari into the mix and you have something bold and truly unique with huge flavor and no risk of being hungover tomorrow.
Ingredients:
1 fl. oz Blood Oranges, juiced
1 fl. oz Cara Cara Oranges, Juiced
2 fl. oz San Pellegrino Arranciata Rossa soda, or for low sugar use 2 fl. oz of sugar-free Orange Sparkling Water
1 fl. oz of Campari*, if desired (Campari is an Italian Liqueur with low alcohol and a bitter orange taste)
Directions:
Pour orange juices and Campari (if desired) to a cocktail shaker with ice.
Shake vigorously to combine and pour into a chilled tumbler with ice.

Add arranciata rossa soda, or orange sparkling water and

garnish with a slice of orange!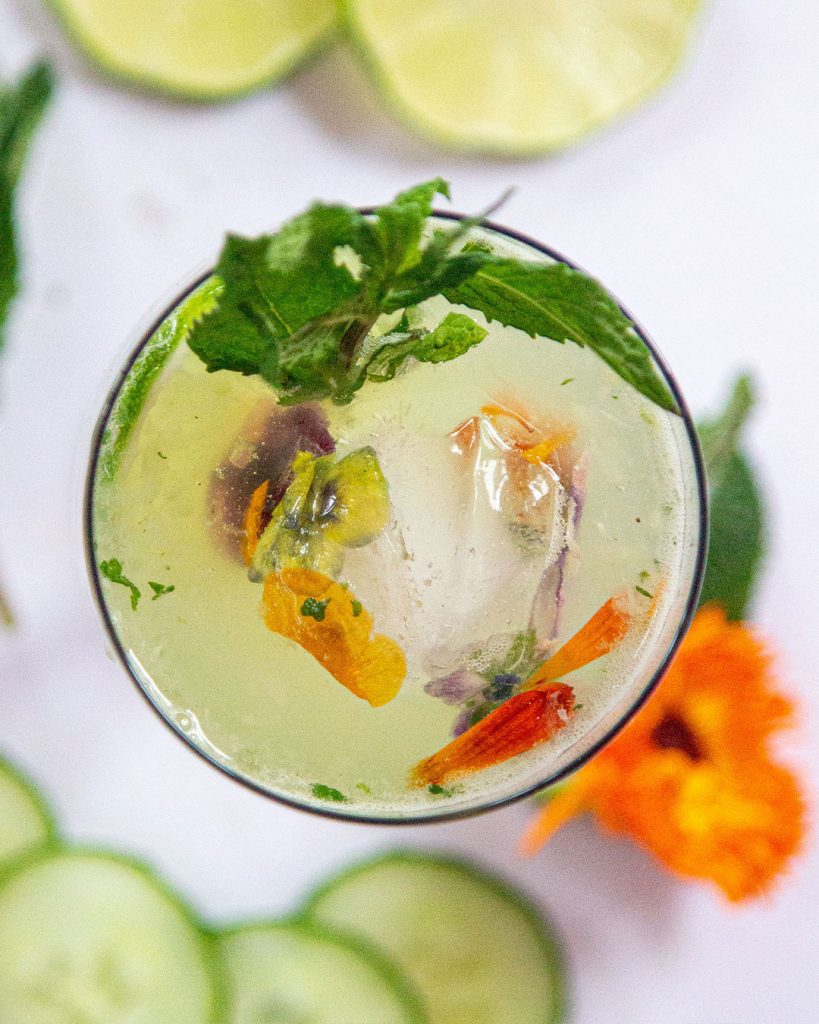 Mindful Mint Mojito
Sprigs of fresh mint
1 tsp cane sugar or stevia
2 fl. oz Silver Rum*, if desired
2 fl. oz cucumber sparkling water
Optional: Create flower-infused ice cubes for a beautiful touch.
Instructions
Place 6 mint leaves in the bottom of a tall glass and press down with a muddler to extract the juices and flavor.
Add sugar or sugar substitute and muddle into mint.
Add ice to glass and add your sparkling water and rum.
Stir the drink with a bar spoon.
Add sliced cucumbers and stir.
Place a sprig of mint at an angle against the rim of the glass to garnish.