9 SuperFoods to Boost Your Mood
When you think of your happy foods, what do you think of? Most people think of comfort foods like pizza and pasta, or maybe those sweet treats like ice cream and cookies, or maybe you think of the fun foods you share with friends, like tacos and beer. And while all those foods can be part of a healthy, fun life, they're not actually helping your brain produce, maintain and sustain a happy mood. In fact, usually, they are actually causing spikes and crashes which might leave you down in the dumps or at least passed out on the couch.
Here are 9 foods that help you keep the good vibes going all week long.
1. Eggs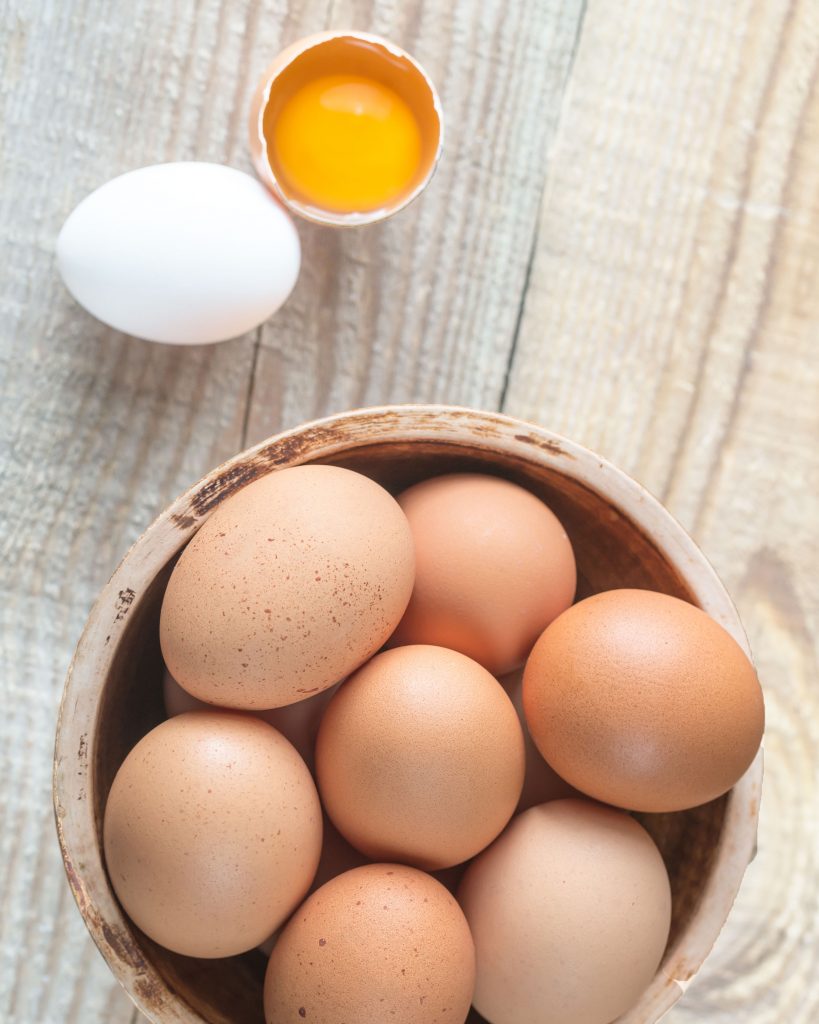 Why: Egg yolks are one of the few food sources of vitamin D, says Healthline. According to nutritional research published in Nutrients, studies show that vitamin D deficiency is correlated with an eight to 14 percent increase in depression. However, eggs come with more than just a healthy supply of vitamin D. The United States Department of Agriculture (USDA) reports that one large egg provides you with about six grams of protein that fuels you up for a productive day.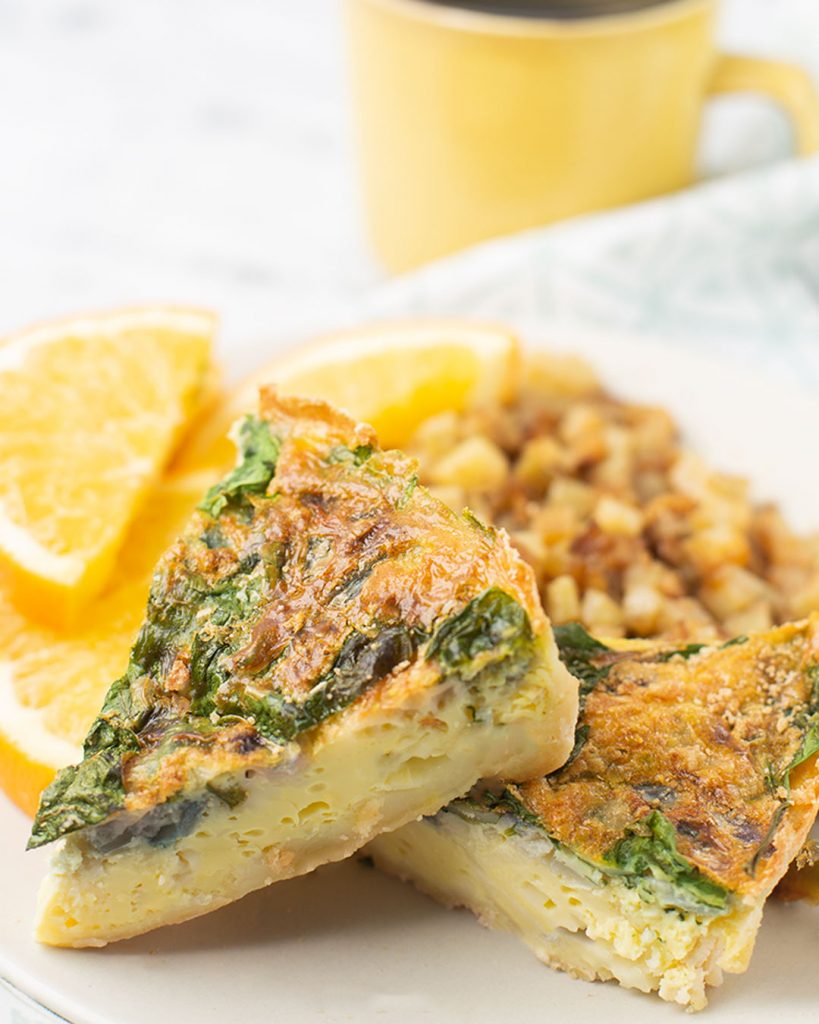 Try: MacroPlate's Veggie Quiche. Our classic quiche is soft and fluffy with local cage-free eggs, homestyle potatoes, and a side of fruit for a decadent breakfast that won't weigh you down. Now that's something to smile about.
2. Fish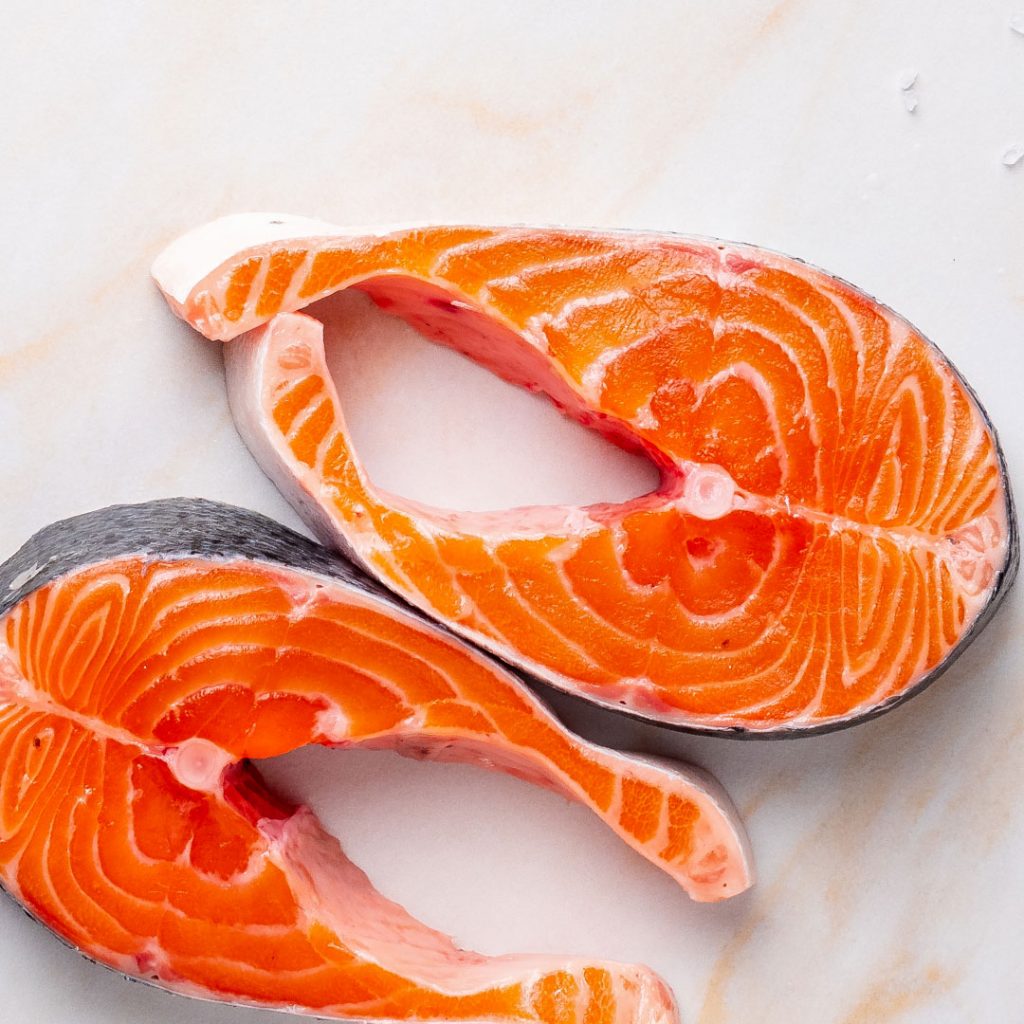 Why: Salmon, albacore tuna and other fatty fish are rich in two types of omega-3 fatty acids—docosahexaenoic acid (DHA) and eicosapentaenoic acid (EPA). These nutrients can "travel through the brain cell membrane and interact with mood-related molecules inside the brain," says Harvard Health Publishing. "They also have anti-inflammatory actions that may help relieve depression."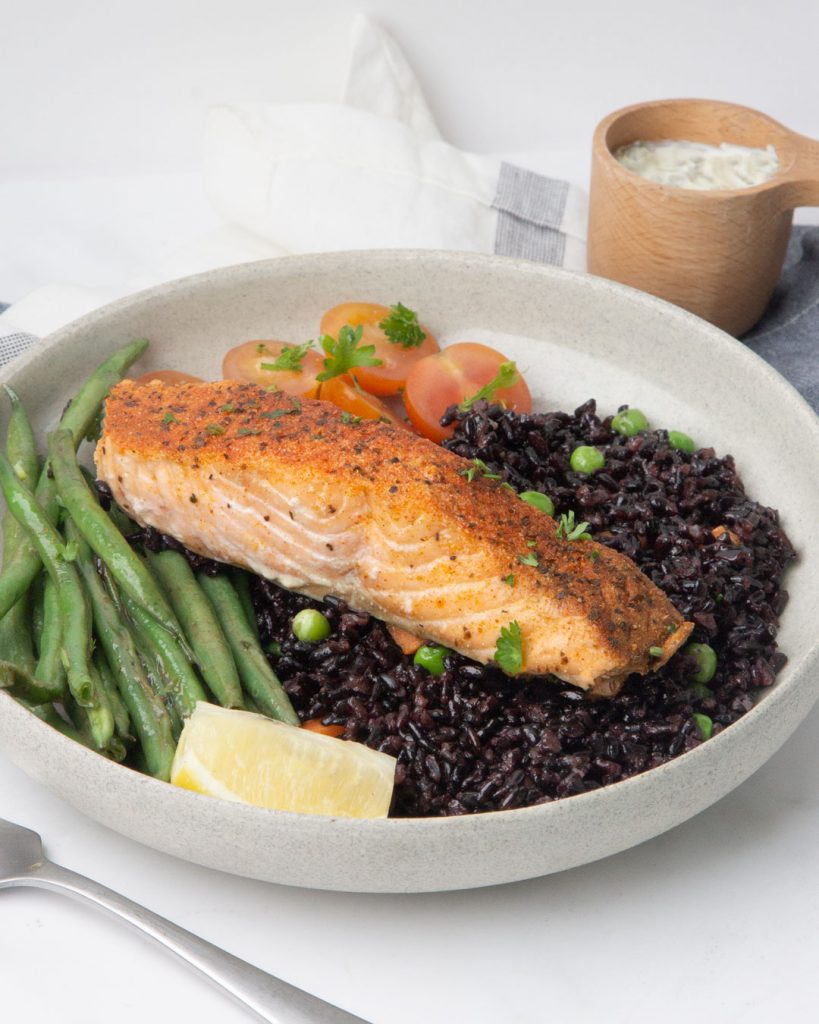 Try: MacroPlate's Cajun Salmon. are an amazing healthy recipe and meal prep option that's loaded with protein, fatty acids, and antioxidants. Plus, it feels like a fancy night out, without the extra calories.
3. Yogurt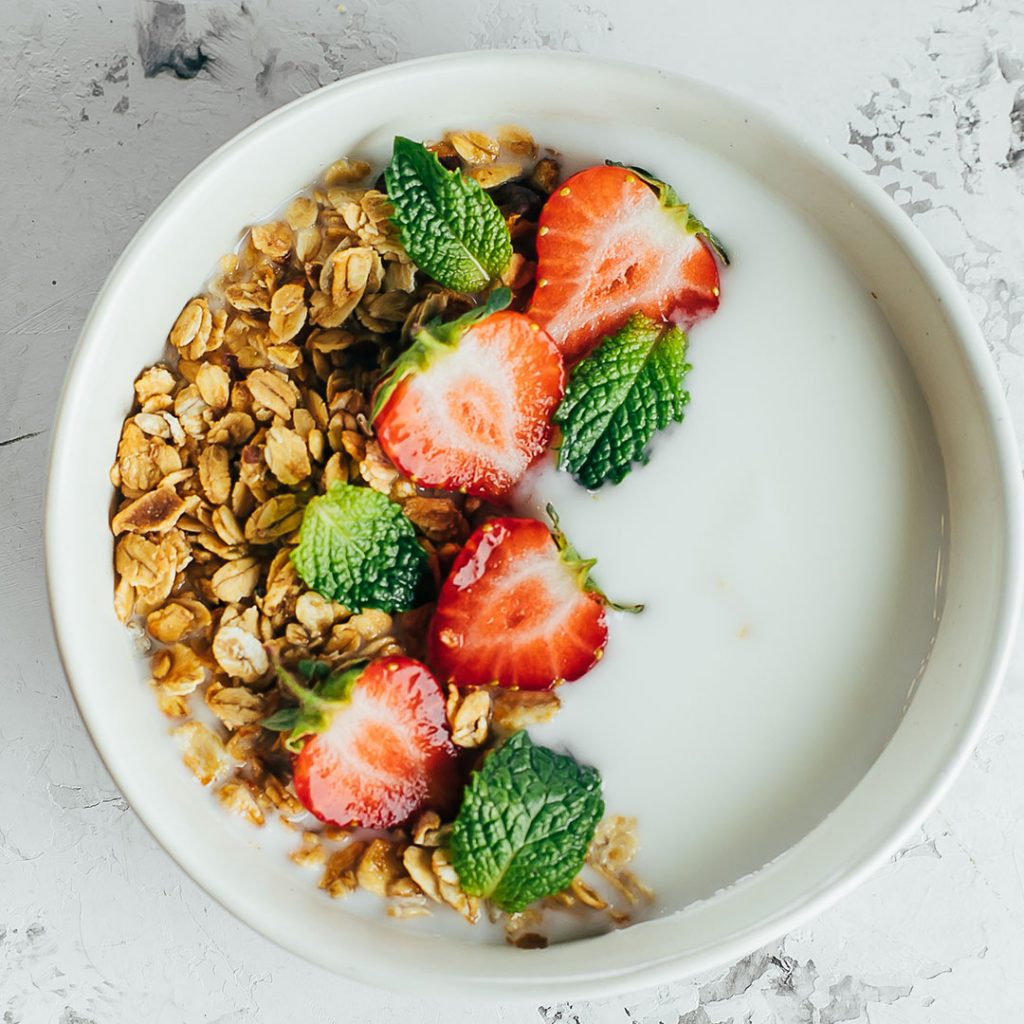 Why: Nutrients often work together in our bodies. For instance, calcium helps us process vitamin D. That may help explain why women who eat a diet high in calcium are less likely to be depressed than those who don't, according to a study, published in Nutrition Research and Practices. Calcium is also essential for regulating metabolism, which affects our energy levels throughout the day. Plain nonfat Greek yogurt, a probiotic powerhouse, that's high in protein and low in calories—gives you 250 milligrams of calcium in a single eight-ounce serving, says the USDA.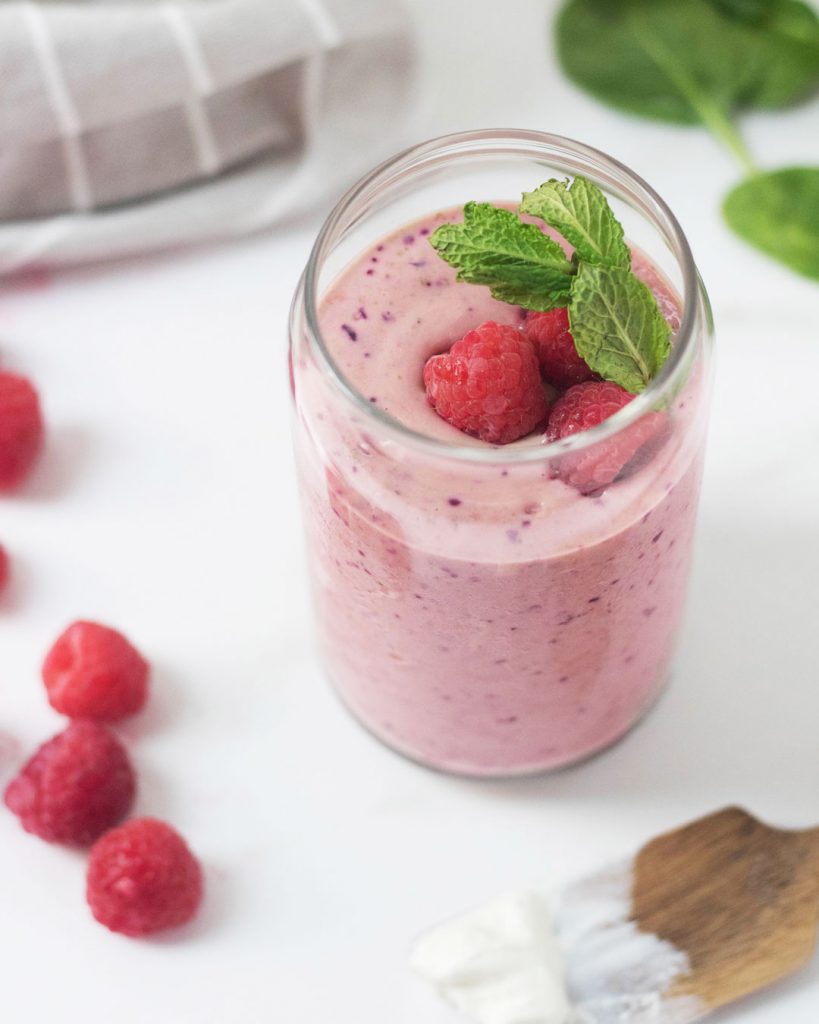 Try: MacroPlate Chefs created four smoothies that are perfect for every member's unique macros. Check out our MacroPlate smoothies here.
4. Beans
Why: People who eat foods rich in magnesium may have a decreased risk of depression when compared to people who don't eat enough of this essential mineral, conclude the authors of a study, published in the Australian and New Zealand Journal of Psychiatry. They theorize that magnesium helps to regulate certain systems within the brain that control stress response. So, if you're feeling stressed, enjoy one cup of cooked black beans with your healthy meal. According to the USDA, this contains 120 milligrams of magnesium, about 30 percent of your daily requirement (depending on your age range). Beans of all kinds are also great for a high fiber diet, so you feel full for hours after eating them.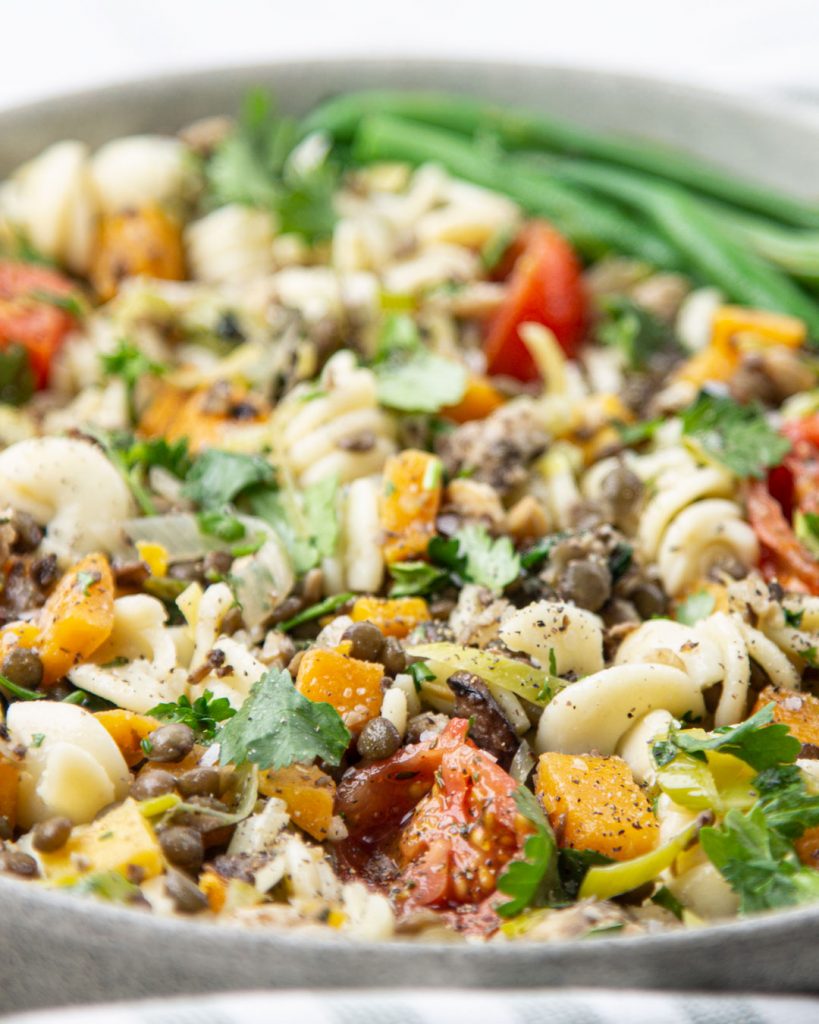 Try: MacroPlate's Harvest Squash Fusili Bowl. MacroPlate's Plant-Based menu has hundreds of vegan & vegetarian-friendly recipes that are full of plant proteins and loaded with legumes. Our Harvest squash bowl is a feast of flavor and packed with protein from lentils.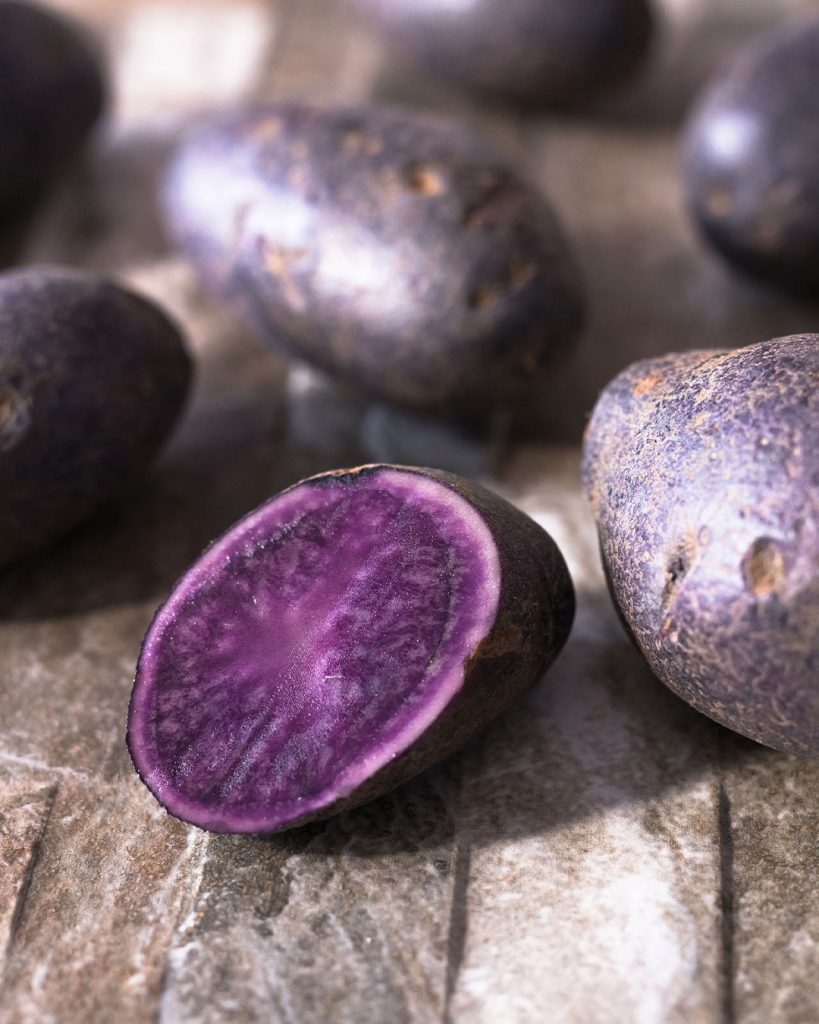 5. Purple Potatoes
Why: A healthy diet is a colorful diet. Fruits and vegetables come in five main color categories: red, orange/yellow, purple/blue, white, and green. Each one of these colors represents, in general, a specific vitamin, mineral, or antioxidant. For example, green vegetables are high in vitamin K and folate, whereas orange or yellow fruits and veggies are usually high in beta carotene and vitamin C.
But, there is one color that can easily be ignored because these foods may not always be front of mind; that color is purple. Anthocyanin, the pigment that creates the purple color in potatoes and other veggies, is actually an antioxidant.
6. Leafy Greens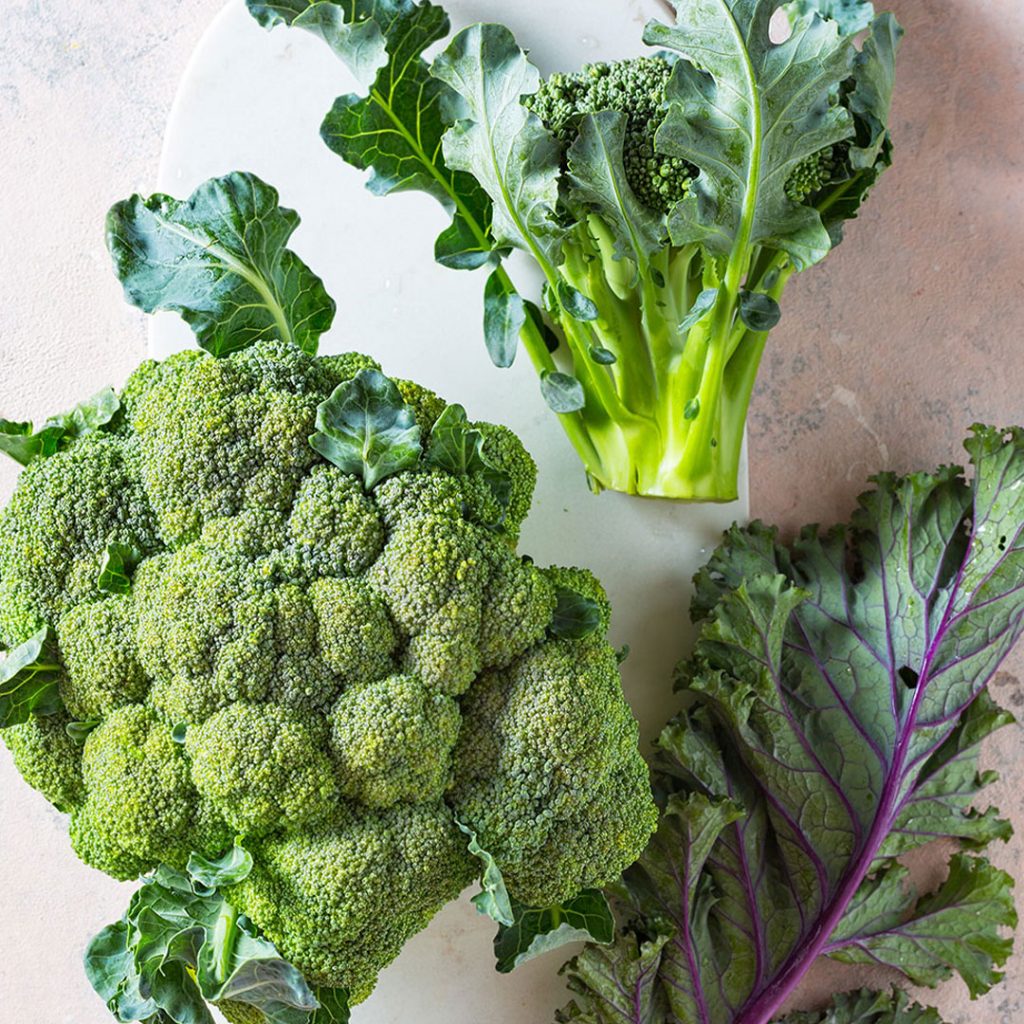 Why: Leafy greens are top of almost every healthy list, and for good reason. They contain high amounts of the essential Vitamin A, which not only give your brain energy, but you fight against certain types of cancer. The darker greens, like spinach and kale, contain a large amount of magnesium and selenium, which are the primary nutrients that enable the body to produce enzymes. These enzymes can help increase the amount of serotonin in the brain and we all know that the more serotonin (the feel-good chemical) we have, the happier and more satisfied we feel.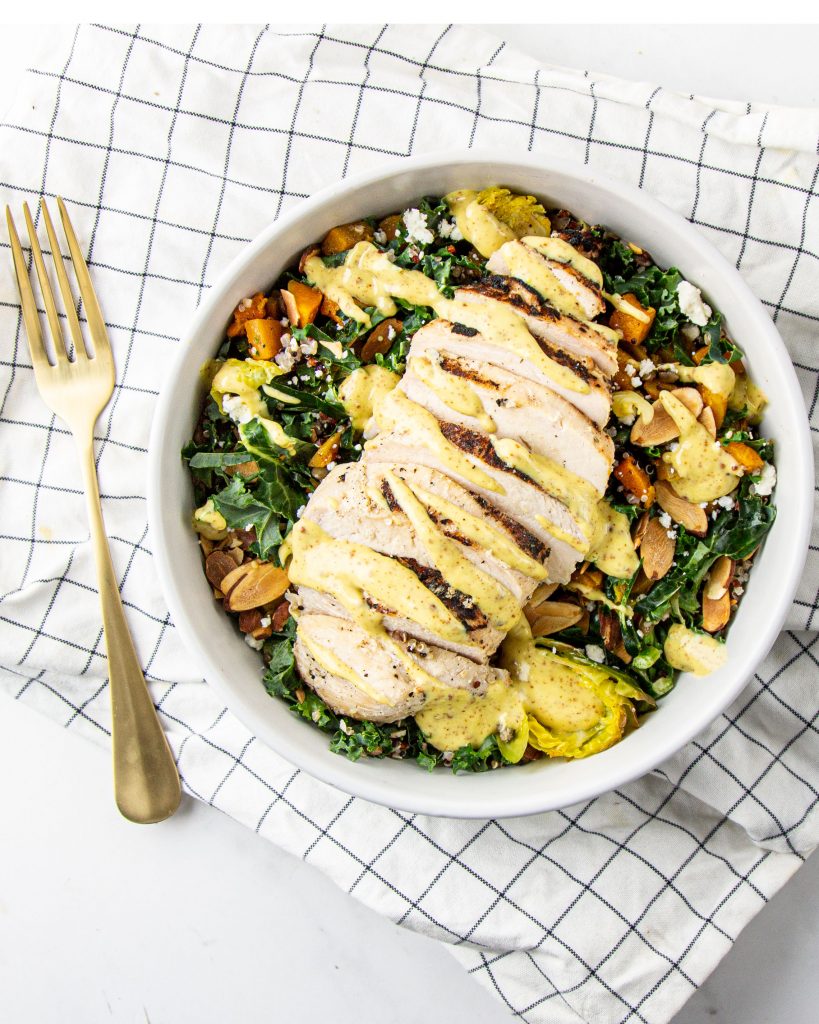 Try: Have you tried MacroPlate's salads? While all of our meals are nutritionally dense, our salads are next level. Dive into gourmet mixes of seasonal veggies, juicy proteins, luscious cheeses, and housemade dressings for a creamy crunch of delicious nutrition.
7. Asparagus
Why: The tender green spears are another great vegetable source of tryptophan, says Health.com. According to Healthline, asparagus also provides you with plenty of folic acid. "Many studies, going back to the 1960s, show an elevated incidence of folate deficiency in patients with depression," says the Journal of Psychiatry and Neuroscience.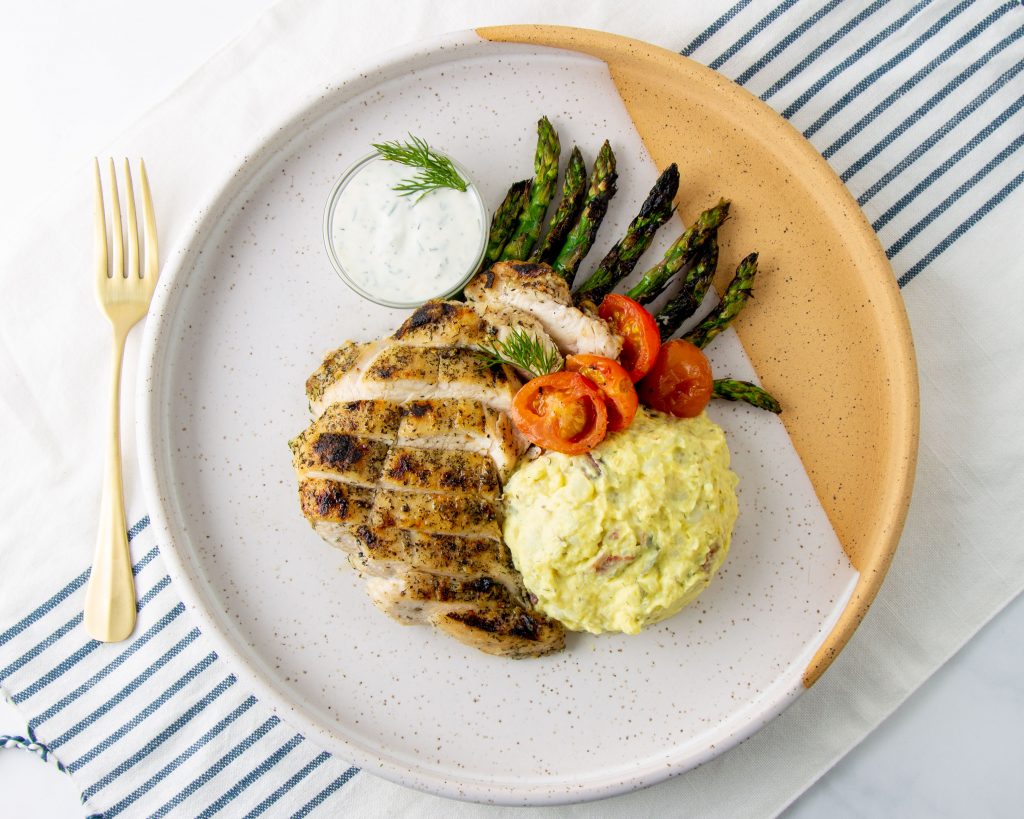 Try: MacroPlate's Lemon Dill Chicken. An absolute classic, and one of our member's favorite meals. Our juicy grilled chicken comes with a side of healthy homestyle potato salad and a housemade creamy dill sauce, on top of, you guessed it, grilled asparagus spears.
8. Blueberries
Why: Flavonoids are phytonutrients (meaning they are found only in plants) that give blueberries their deep color. People who drank blueberry juice as part of a study reported more positive changes in their mood than those who drank a placebo, says the journal Nutrients. The researchers theorize, "flavonoid consumption enhances cerebral blood flow, boosting executive functioning, and thus helping to inhibit cognitive features (i.e., rumination) that maintain depression."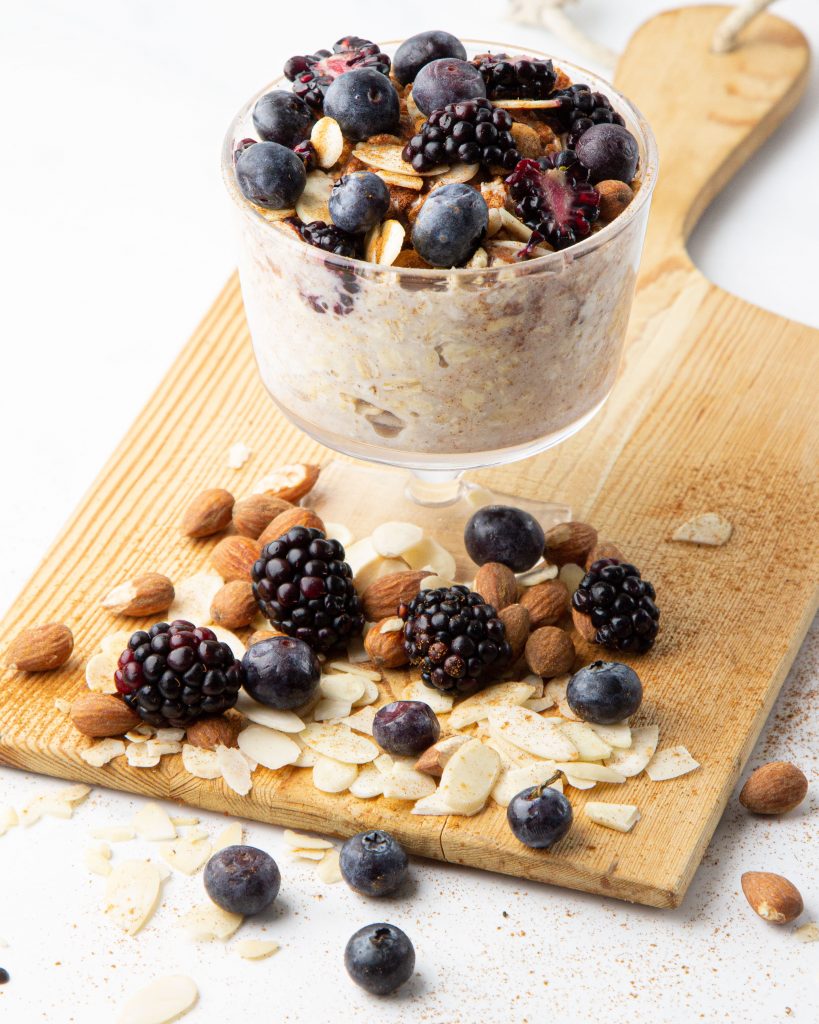 Try: MacroPlate's Overnight Oats. Did you know we also have full breakfasts? From pancakes to waffles, to omelets and quiche, we have all kinds of sweet and savory breakfasts as well as hearty breakfasts like chia puddings and overnight oats, a great way to add delicious berries to your day.
9. Dark Chocolate
Why: Science has confirmed what you probably already know: chocolate improves your mood. "Cocoa polyphenols (micronutrients) enhance positive mood states," says researchers in the Journal of Psychopharmacology. Researchers believe that the polyphenols stimulate activity in the brain regions associated with pleasure and reward and boost serotonin. Of course, dark chocolate often comes with fats and sugar, so you need to limit your consumption while stressed to keep from derailing your weight loss journey.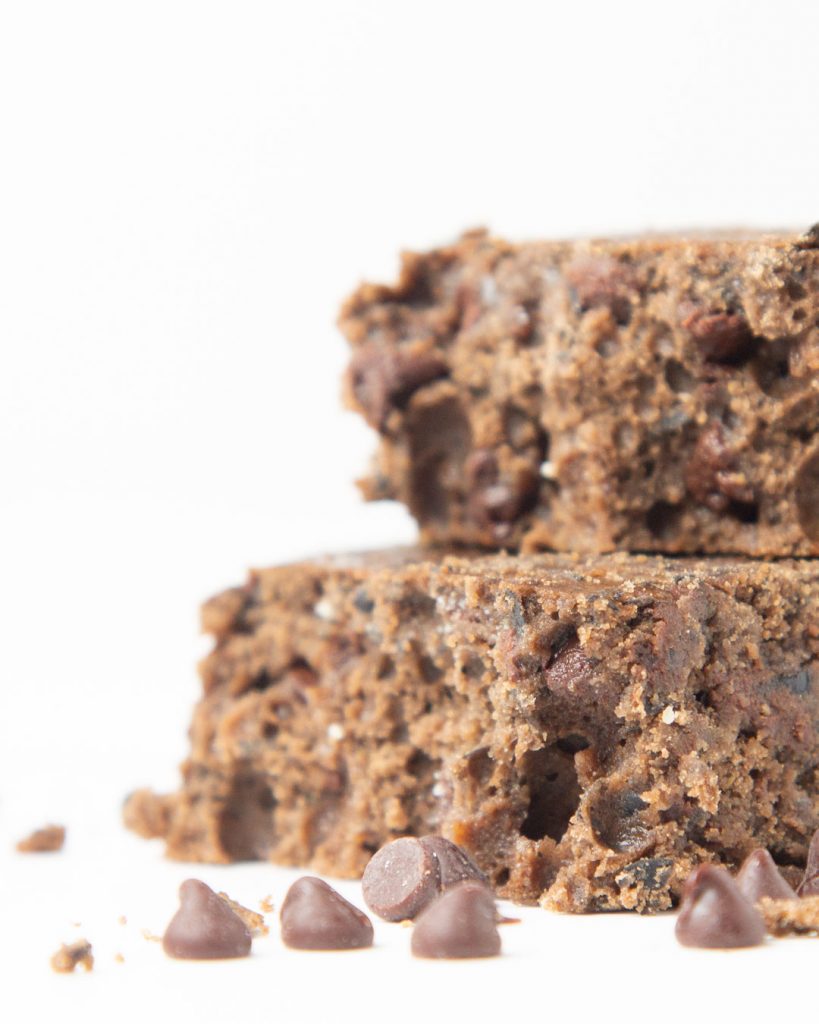 Try: The MacroPlate's Guilt-Free Chocolate Brownie from our snack bakery! Yes, MacroPlate has it's own bakery where we make protein packed healthy snacks with only the best natural ingredients like Dark Chocolate! Our brownie hits all the high notes for that mid-day pick-me-up, while keeping the calories and fat content to a minimum. Our healthy snacks can help you with your meal prepping and planning, eliminating another reason to be stressed. Plus, it has eight grams of fiber and six grams of protein, so it takes down hunger pangs while filling you up with rich, dark chocolate.