Maddie Quinn: Vegan Meal Delivery Macro Plate Review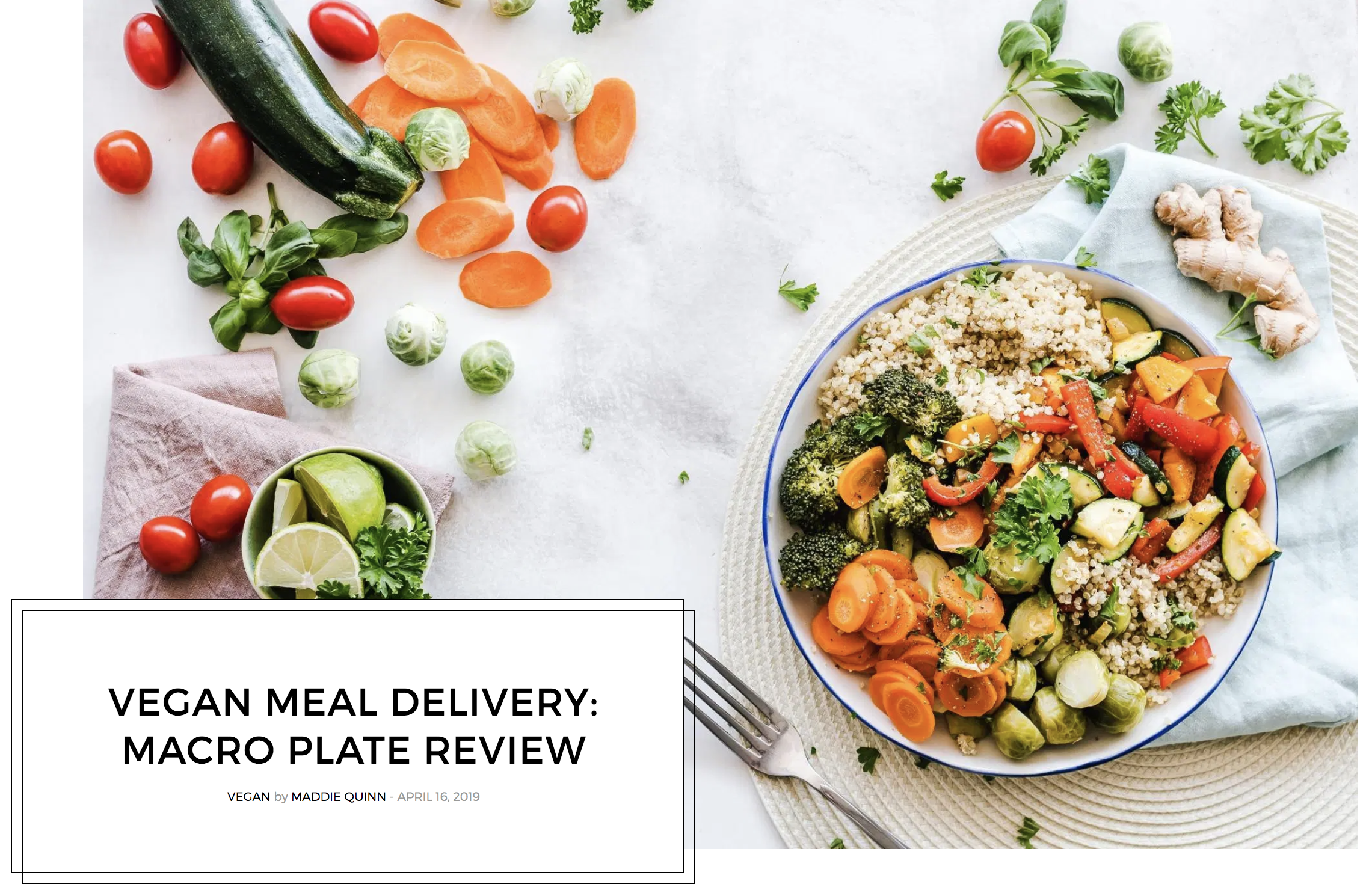 We are so pleased and honored that Maddie Quinn took time to write a beautiful and thoughtful blog on her experience with meal delivery companies as a vegan who suffers with food allergies. It makes us so happy to know that our meals are helping people across Southern California every day. Please read her lovely full article here.
"As a vegan who's allergic to a lot of foods, it's really difficult to eat out with me. And I'm fine with that. […] So, as you might imagine, finding a meal prep service that is willing (and able) to accommodate all of my dietary requirements was challenging, if not impossible. That is, until I met Macro Plate!

I found Macro Plate through my boyfriend, Jon, who had seen a Facebook ad and had decided to try their "Paleo" plan. They seemed like a relatively small company local to Southern California, so that got me thinking—maybe they'd be more willing to customize a plan just for me. I contacted their customer service team, and to my surprise, they said they'd be able to accommodate all of my dietary restrictions, as long as I choose the "lunch and dinner" vegetarian plan. (They're still working on a vegan breakfast menu.) The woman assured me that even though it says vegetarian, they would make my meals exclusively vegan. I was thrilled!

The nice thing about Macro Plate is that it requires no cooking and is delivered directly to my doorstep every night. For $130 a week, I get 2 meals delivered 5 days out of the week (for a total of 10 meals). That comes out to about $13 a meal. Every night, I put out my little lunchbox outside my apartment door, and every morning I awake to a full lunchbox with fresh meals for that day. Macro Plate is essentially Santa Claus for meal prep.

I'll admit—I was a little skeptical at first. But after my first week of Macro Plate deliveries, I was in love. I have been using Macro Plate for a little over 2 months now, and I haven't had a bad meal yet. I've had a few repeat meals, but the variety is remarkable.

This was not meant to be an ad or anything, but I'm just so excited that I finally found a vegan meal service that is affordable, delicious, and convenient."
We love you Maddie and are so happy to be supporting your goals and helping you out with your food allergies!
If Maddie has inspired you to give us a try, use her code MADDIE002 for $10 off! And go check out her gorgeous blog at maddiequinn.com